The MERRA Committee and a volunteer community working group are now completing this two year project.  
Stages included community engagement, a successful application for Rodney Local Board funding, volunteer working group activity, and a protracted Auckland Transport approval process.
The working group initially agreed themes for design and construction that included:  "maritime, historic, coastal, robust, natural, simple, sophisticated, timeless".  The result is a striking 'plinth with gaff sail' design referencing the area's history and its strong Maori and European maritime tradition.  Likewise the dual names 'Scotts Landing' and 'Mahurangi' reflect both today's usage as well as the traditional Maori name for the area.
From paper to reality side by side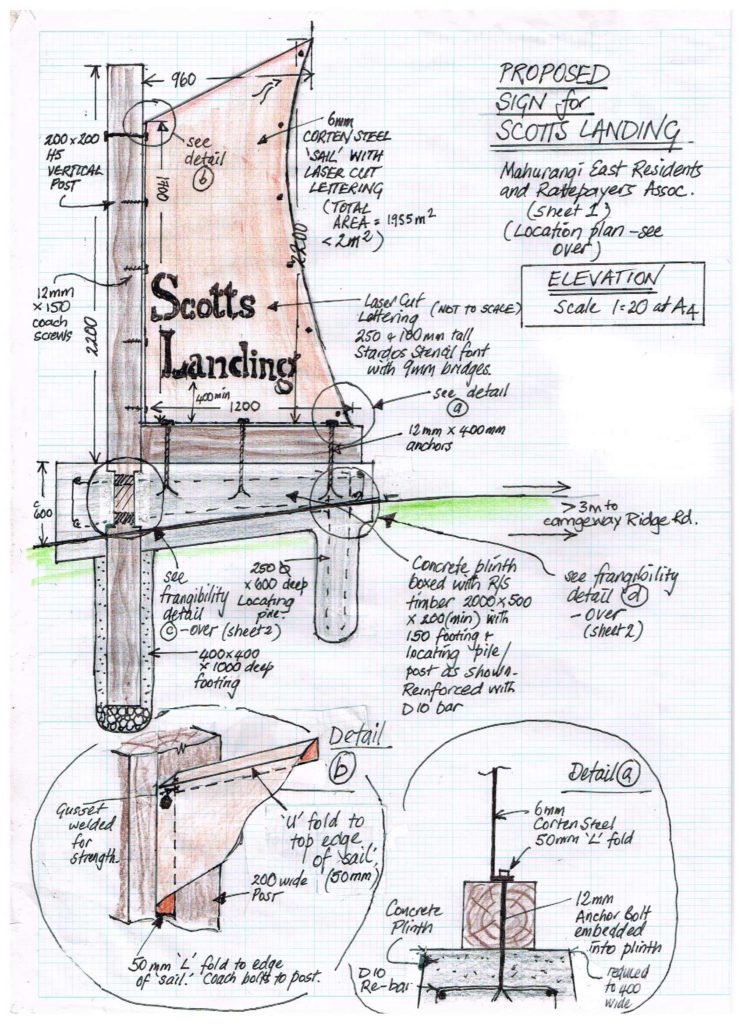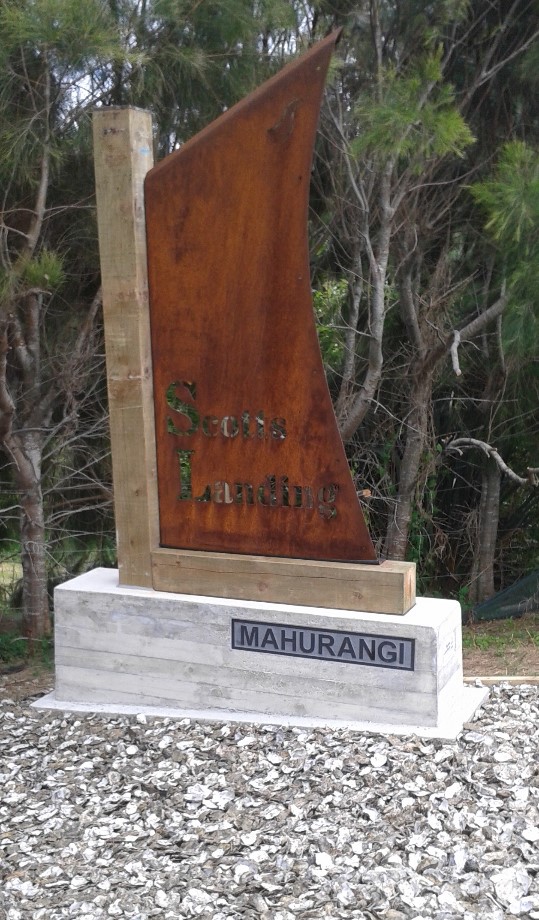 Historically 'Mahurangi' was also adopted (with various qualifiers such as 'Heads' and 'East') by earlier European settlers on the peninsular.  Denham's 1852 survey subdivided the peninsular for a settlement labelled 'Village of Mahurangi'.    
Over time the wider adoption of the names 'Mahurangi' and 'Mahurangi East' further afield may have diluted local identity, a catalyst perhaps to the ascendency of the name 'Scotts Landing'.
The name "MAHURANGI" in granite and capital letters is integral to the sign's concrete plinth. It symbolises a strong and enduring connection with this land and extensive Maori history.  By contrast the words 'Scotts Landing' are rendered in lowercase and on the sail.  This placement suggests more recent arrival and a contrast in terms of connection and permanence. The contrast resonates with the Maori proverb "Whatungarongaro te tangata toitū te whenua" (As man disappears from sight, the land remains).  
MERRA wishes to acknowledge:
 The volunteer community working group who responded to MERRA's invitation to become actively involved in the project's design and creation and gave freely of their skills and expertise:
Alan Seelye (co-designer, landscaping)
Jude Nye     (co-designer, safety management, steel treatment, landscaping)
John Waugh
Joy Paxton
Heather Sidders
Malcolm Scott (investigating timber supply options)
Penny Scott
MERRA Committee members for their decision-making and oversight of the project particularly those actively involved in process and construction:
Mark Croft (also a working group member)
David Legg (also helped with transport and purchasing)
Peter Seers
Chris Russell (site clearing/spraying)
Stuart Windross (working group convenor, MERRA's delegated project manager, working drawings, approvals, construction)
Others who volunteered their time or goodwill including:
Doug Hamilton (front end loader)
David Stevens (concreting working bees)
Lisa Hay from Mahurangi Oysters (surprise food and refreshments for the working bee)
Bruce Trethewy (snack delivery, organising and donating the granite 'MAHURANGI' sign)
Nick King and Jan Burbury for supporting the sign placement on their berm.
The many residents who helped in other ways or stopped to deliver encouragement and positive feedback
 We also thank:
The Rodney Local Board for their $2000 grant.
Bruce Anderson and Pinepac – www.pinepac.co.nz (for the generous donation of the mast timber that was especially milled and treated for the job)
Trent Mainwaring of Zenith Tecnica – www.zenithtecnica.com (for many hourspreparing CAD Designs of the sail and organising its manufacture by Precision Laser Cutting – www.precisionlasercutting.co.nz)
Biomarine Ltd for the donation of oyster shells for landscaping.