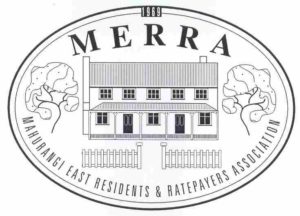 Mahurangi East Residents and Ratepayers Association Inc.
It's a mouthful but we are referred to as MERRA in everyday conversation. Formed in 1968 and known then as Mahurangi Heads Residents and Ratepayers Association, it changed its name dropping 'heads' in favour of 'east' in 2005 when it also formally adopted its rules and constitution.
MERRA advocates for and promotes the interests of it members and by extension the entire Scotts Landing and its surrounding area.
 Today, MERRA engages in a variety of activities which include encouraging social interaction between residents, animal and plant pest control, neighbourhood support and emergency community response, environmental care, liaison with local Government and a host of other minor work.
Membership to MERRA is $12 per annum per property and covers all persons living there. All property owners are encouraged to belong to MERRA so we may represent as many as possible when speaking on behalf of the community.
To join or let us know of any changes to your details, scroll down to the member form on this page and complete the form, submit it and then deposit $12.00 to the MERRA bank account number 02 0480 0033353 00 BNZ Warkworth. List your street address on the deposit.
MERRA's 2019/20 Committee
Executive
Peter Seers- Chair
Anna Friend – Vice Chair
Heather Mackay – Secretary
Susan Jelicich – Treasurer
Members
Lindsay Crocker
George Ireland (Co-opted)
David Legg
Chris Russell
Peter Seers
Stuart Windross
The MERRA Executive and Committee are elected at the Annual General Meeting usually held in April.
The Committee can have up to seven elected members in addition to the three executive rolls of Chair, Secretary and Treasurer. In addition, the Committee has the power to co-opt any number of additional individuals for the duration of the year for specific purposes.
For a copy of MERRAs full rules and constitution, click HERE.