MERRA Historical Trail Location 2: 
The Community Garden and the Te Kapa Estuary
Summary: This commentary explores the history of… 
Read on to explore the history of the area you see from this vantage point
Please Note: the Community Garden is narrow and bordered on both sides by private
gardens. There is no access to the water. Please respect the neighbours' privacy.
"Give a little – Take a little"
This is the motto for this small organic community garden started here in October 2018. Anyone is
welcome to take a little produce in return for work, donation of seedlings, or providing something
for compost production (eg: lawn clippings, vegetable waste, wood chip, leaves, manure).
Excess vegetables and herbs are placed on the 'produce share' table beside the 'little library' on the
corner of Charles Street and Ridge Road.  Contacts are: Wendy Munro 021-877-048, Dorothy
Andersen 021-391-550 or Karen Windross 021-255-9177
The Village of Mahurangi; an early subdivision

The Village of Mahurangi; an early subdivision.
The Community Garden sits on 'James Street'. It is one of the many unformed and in many cases
unbuildable 'paper roads' that criss-cross the peninsular. The layout's disregard for local topography
suggests it was drawn up remotely; perhaps in England. James St is just one example. From the
banks of the Te Kapa Estuary it heads inland up a precipitous bush-clad slope to connect with Ridge
Rd above.
A short distance further on is Duke St; also unformed and angled skyward towards Ridge Road. Its
gradient can be experienced by walking up the Council-formed walkway known locally (and for
obvious reasons) as 'Coronary Bypass'.
The original street plan for the Township or Village of Mahurangi dates from 1852. It was the work
Surveyor William M. Denham.
It was drawn up as the Crown's clumsy and protracted settlements with Maori for the 'Mahurangi
Purchase' were nearing completion. The purchase, covering the area from Takapuna north to Te
Arai and inland to the watershed, was concluded in 1853.
The survey was likely supervised by Auckland's chief surveyor, the multifaceted explorer, artist and militiaman Charles Heaphy VC. Heaphy later purchased a number of lots in Mahurangi Village and variously resided and holidayed here. His cottage is referenced in another Historical Trail commentary. In declining health and seeking a warmer climate Heaphy departed for Brisbane Australia shortly before his death in 1881.
Heaphy and Denham's survey included all the trappings of a Victorian town including recreational and school reserves. 170 years on it remains the basis of today's sections and titles. 
New Zealand Surveyor-General Felton Mathew was a proponent of the Settlement of Mahurangi. He envisaged that with its equally safe harbour, it would grow to complement the nearby town of Auckland that had become New Zealand's new Capital in 1840. Land sales were slow however and grand plans did not eventuate. Lots were bought in bundles by speculators and many ultimately by resident farmer families expanding their acreage. 
The Lawrie, Anderson and Moroney families grazed much of the peninsular at one time. The latent village remained a peaceful backwater; home to small mixed farms, boatbuilders, seafarers, and residents or holiday makers seeking a bucolic coastal escape. 
Further upriver pioneer miller Gordon Brown promoted his settlement at Puhinui. It quickly attracted far more residents. Initially it too became known as Mahurangi (or Upper Mahurangi) before being renamed Warkworth. In an ongoing quest for differentiation this settlement became known as Lower Mahurangi or Mahurangi Heads. More recently it has been referred to as Mahurangi East and now most commonly as Scotts Landing. 
The past few decades have seen many of Denham's 1852 residential lots revived, on-sold and built upon; open farmland gradually giving way to planting, homes and gardens. 
The early date of subdivision means most properties bordering the water in Scotts Landing have 'riparian rights' (private ownership to the high tide line; MHWS). It was not until 1892 that the Crown passed legislation requiring purchasers of crown land and subdividers to reserve a 20m wide strip of land above the high tide line for public use.
Charles, Point and Young Streets in this area previously known as 'Rosedale' were little more than unformed tracks through farmland until the 1970s. Local resident Bill Townson (like his noted brother Des a talented boat designer and builder) recounts that once they bought their section the first challenge was to get a road to it. 
Short St just north of here was named after Thomas and (William) Benjamin Short who arrived from Essex in 1854 with their father Hercules. While their dad remained in Auckland, the brothers came to Mahurangi to work as shipwrights in family friend Thomas Scott's yard at Scott Point. Thomas arrived first, marrying local Margaret McBrierty in 1859. Benjamin (Ben) joined him in 1862, marrying Julia Sullivan, from across the river, that December. Whether either of the brothers actually lived at Short St is unknown. The vacant and storm-damaged Rosedale house, demolished in the 1980s, and latterly lived in by the Anderson/Moroney family, may have been theirs originally. Joyce Anderson recalls that what is now her tractor shed was relocated from Rosedale at the time. It still contains the wooden boards of the 'dance floor' and memories of the old-time local dances held at Rosedale.
The Short brothers took over work at the Scott shipyard when Thomas Scott retired in 1863. They completed the impressive America launched in 1865. The larger schooners Stately (1866) and Fiery Cross (1868) were also Short-built and apparently commissioned by their mariner brother George for the inter-island timber trade. Thomas Short was also listed as licen see of the Scott's Richmond Inn adjacent the shipyard in 1865.
A tragic double drowning ended the Short brothers' partnership on the Mahurangi. Ben (23) and his 14 month old son John Hercules Short were drowned near Casnells Island (Motu Maunganui) while sailing home from visiting friends on 2 January 1869. Julia was rescued close to drowning after half an hour in the water. Following the death of his brother and nephew and then the burning down of the Richmond Inn, Thomas left Mahurangi for a life as a sea captain. Julia remarried a year later, and settled back across the harbour on family land in Otarawao (Sullivans) Bay. She and husband William Jackson produced a dozen children, eight of whom survived to adulthood.
The tidal flats of the Mahurangi Harbour (including opposite here in the Te Kapa) are home to the farmed Mahurangi Oyster. The lines of growing racks are visible at low tide. The origins of the industry go back to the late 1960s when the NZ Ministry of Agriculture and Fisheries sponsored an Australian researcher to conduct growing trials here and at Kawau. He determined that certain areas were suitable for farming albeit the native New Zealand rock oysters used would be slow-growing.
Fortunately for oyster lovers about the same time the Pacific oyster breached New Zealand's biosecurity net (possibly arriving on the barges bringing the 'Nippon Clip-on' new lanes for the Auckland Harbour Bridge). In the 1970s the Pacific Oyster quickly eclipsed and outgrew the sluggish native oyster on the growing racks. 
Today there are over 10 different farmers growing Pacific Oysters on the Mahurangi for export, restaurants, retail and caterers. While growing methods have changed little over the years you will increasingly see mesh baskets/bags among the racks. Growing oysters from single seed spat in these bags is gaining popularity. Oyster tours and an oyster stall operate seasonally on the peninsular.
Across the Te Kapa Estuary from here lies the Eastern peninsular of the Mahurangi Harbour culminating to the south in idyllic Dairy Bay and Sadlers Point. Saddle Island (Te Haupa) lies just off shore from the heads with Motuora beyond. 
Since the 1970s the Auckland Regional Council and latterly Auckland Council have been extending the regional parks network in Mahurangi; now including the three Mahurangi 'heads'. Mahurangi regional parkland now stretches from Wenderholm in the south to Sadlers Point in the north and Scandretts beyond. It includes Te Muri, Otarawao (Sullivans), Mita, Scotts Point, Lagoon and Big Bays and now north towards Martins Bay with Scandretts beyond. The latest 95 hectare $12m purchase, 45% funded by a grant from the John and Margaret Turnbull Trust, lies opposite here (top right on map). Most recently owned by the Becroft and Nichol families, the acquisition will provide road access and expand the existing parkland.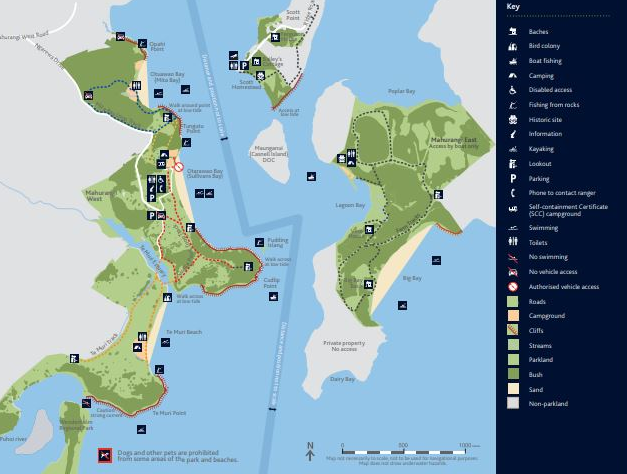 As the map shows, two landholdings remain in private ownership outside the boundaries of the newly extended Eastern parkland. One on the headland south of Poplar Bay (centre right) and the other at the Sadlers Point end of the peninsular (lower right).
Darrach & Sons Shipbuilders
The former property, now known as 'Brown Owl' (opposite and slightly south from here) was the site of the John Darrach and Son's Shipbuilding yard. After purchasing 230 acres and 'Rosebank' homestead off the McGechies in 1866, Darrach and his family became successful boat builders, producing up to four ships a year from 1867 until 1881.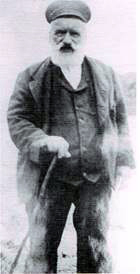 A total of 25 vessels from cutters to barquentines were launched over this period. The Darrachs also extended the farm to 670 acres. John (d. 1897) and Elizabeth (d. 1876) are buried in the Mahurangi Heads Cemetery (Trail Location 1). The property passed to and was farmed by son William and wife Ada who raised 3 sons and 3 daughters.  The land was sold in 1925 and the Rosebank homestead dismantled in 1943 to be re-used in a Martins Bay build.
Another significant ship-building enterprise operated in Marriage Bay (now the gated Cantyre estate accessed from Ridge Rd). The bay is around the point to the south (right) of here. 
George Darroch (likely a distant relative of the Darrachs), his wife Nicholas and their four children, arrived from Scotland aboard the immigrant sailing ship Jane Gifford around 1840. After a stint boatbuilding in Auckland they relocated to Mahurangi around 1850. Their first vessels were built in the small bay between Dyers Creek and Cowans Bay under what they called 'Carpenters' Point' opposite Grants Island/Motukauri. Sadly their son Robert (b.1825) was drowned in 1851 while on a delivery voyage of the newly completed Eagle. His body was returned to Mahurangi for burial. Their
next vessel was named the Robert in his memory. 
In 1853 the family purchased six lots in the newly-surveyed Mahurangi Village. Son James Watt joined them after a 7 year shipwright's apprenticeship in Hobart bringing his wife Margaret and young son George. They named their new home Cantyre and relocated their shipyard to Te Kapa. When daughter Nicholas (Jnr) married Henry Pulham at Cantyre in 1854 the name Marriage Bay was coined.
Marriage Bay was a busy shipyard producing schooners and later also cutters until 1875. The
Darroch family also hosted early church services, operated a tiny post office (now at the Warkworth
Museum) for 50 years to around WW1, and operated a store complete with publican's licence.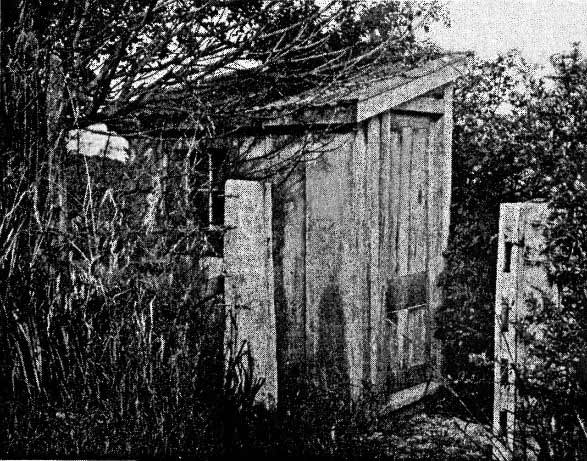 Son James Darroch took over the yard in 1862. George (Snr) died in 1877 and both James and wife Margaret in 1892. The property then passed to sister Mary (and husband coastal skipper Robert Quinn). The home and store, on a rise back from the beach had been totally destroyed by fire in 1881. It is possible that a replacement was built closer to the water and appears in the picture below. Sadly over a century later, and much to the suspicion of locals, this building was also razed
by fire as a new gated development was in its planning stages.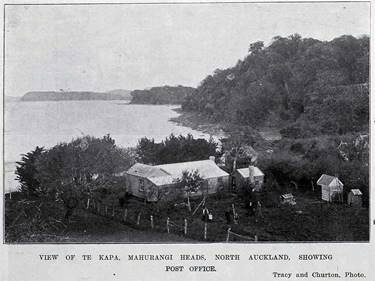 James' sons George (Jnr) and Davey carried on the boatbuilding tradition. After the fire of 1881 Davey, who had been storekeeper at Marriage Bay, began work in Meiklejohn's Omaha boat yard. He eventually took over their upper yard in Whangateau. His time there was certainly productive. Davey Darroch's acclaimed boatyard produced 32 scows (including the namesake Jane Gifford now restored and plying the Mahurangi). His marriage to his erstwhile boss's daughter Vida produced 13 children.
The second private landholding incorporating Sadlers Point, Rodmersham homestead and Dairy Bay is a jewel in the crown. Redolent with history it must hopefully become part of the Regional Park in future.
Construction of the lime-cement-walled Rodmersham homestead was started by Robert Arthur Ponsonby Brooke in 1884. Originally from Bradford, he purchased the land off William Sullivan and William Jackson (Julia Short's second husband) earlier in the year. Brooke set off to England to settle his affairs for emigration and source exotic building materials. He died while away leaving the house an uncompleted shell.
Sarah Jane Lushington (nee Styak) purchased the partially completed house and 300 acres in 1888. Her husband Charles' family seat was Rodmersham Lodge, Kent. He was Eton-educated and an exceptional all round sportsman. The English estate was sold and many chattels including a fine collection of old master paintings moved to New Zealand. Forewarned by a near-disaster stables fire at the Styak's home Greenmount in East Tamaki, the Lushingtons sought a fire-proof home for their collection. They found it in Brooke's half completed home across the water and south from here (best viewed from Casnells Island [Motu Mauganui]). Its design was even reminiscent of Rodmersham Lodge. Pragmatically, the build was completed using local materials and craftsmen.
The extensive Lushington household incorporated the widowed Mrs Styak, her sister and a niece Ella who was treated as a daughter by the childless Lushingtons. On the payroll were a housemaid, gardener, cook, and cleaner/skivvy. A farmhand, Mr Trotter, occupied the ex-Sullivan cottage in beautiful Dairy Bay.
The dairyman and firewood supplier (and also yacht crewman, coastal skipper, fisherman and 'jack of all trades') Mr George Emtage, hailed from and eventually inherited Motuora Island. Born in Bermuda, he went to sea at 12, ultimately jumping ship in New Zealand aged 14 in 1874. He found work crewing for Captain Ragg (of Mahurangi) and in 1883 married his daughter Maude. They raised 9 children. Theirs is a story of challenge, hard work and resourcefulness.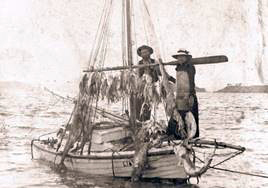 Many vessels both workaday and impressive – such as Lushington's Logan-built yacht Muritai – graced the Rodmersham shore and slipway.
Famous photographer Henry Winkelmann was a regular visitor responsible for much of the photographic record.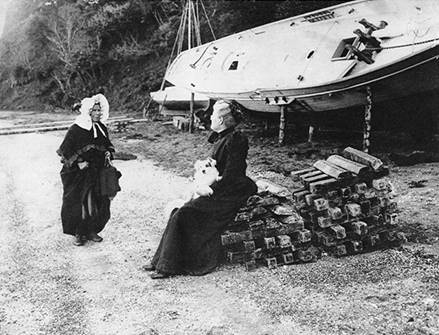 Niece Ella married Harry Wynyard in 1898 and after Charles' early death aged 43 in 1905, Sarah Jane stayed on at Rodmersham for a further 20 years. Her eventual move back to Auckland (and a flammable home) prompted the sale of the art collection. It was repatriated to the UK for sale via Christies Auction House.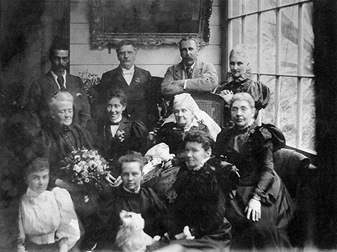 When Sarah Jane Lushington died in 1933 she left the property to niece Ella's son, grandnephew Gladwyn Wynyard.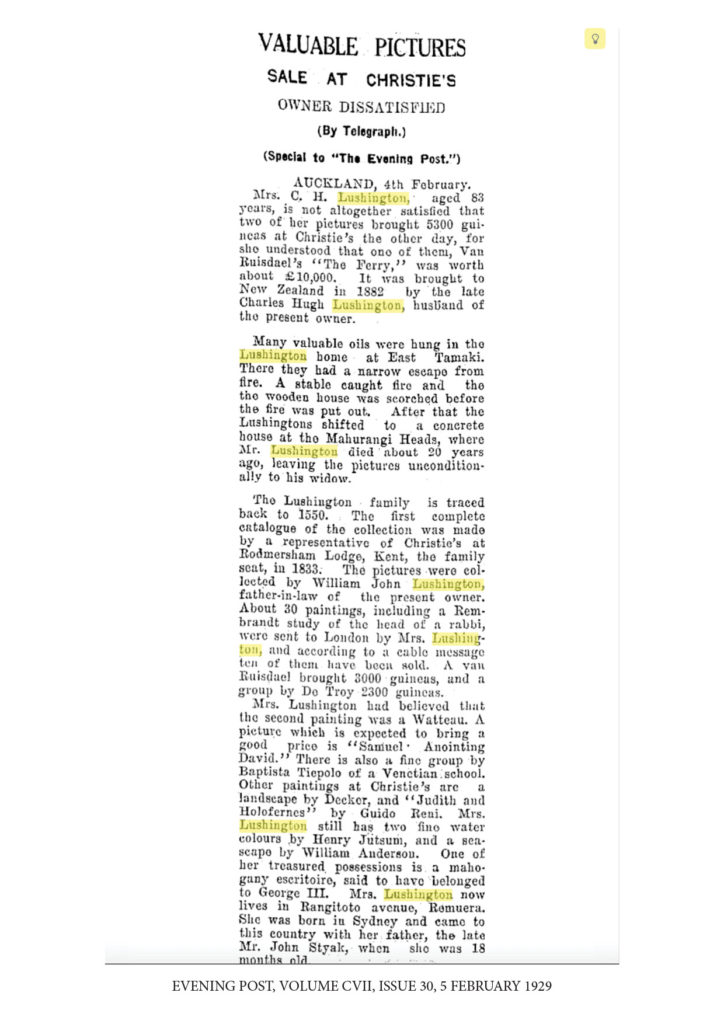 On Gladwyn's death in 1973 Rodmersham passed to his daughter Lyndsay who with husband Mark Kirby continue over 130 years of family ownership. The homestead still nests beautifully on the shore-line under its now towering Norfolk pine.
Acknowledgements: This account draws heavily on the impressive work of the late R H Locker, Jade River – a History of the Mahurangi ; Friends of the Mahurangi Inc, 2001. Thanks too to Joyce Anderson, Andrew Hay, Cimino Cole and Bill Townson for their contributions.