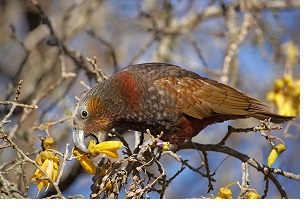 Local bird enthusiast, Joy Paxton has noted the presence of kaka in the area after a long absence. Joy reports that kaka for years have flown from Mahurangi West to Little Barrier without stopping at Scotts Landing but they appear to have recently reintroduced the peninsular as a stopover. Joy notes that, over recent weeks, she has seen one or two above her property and in trees, particularly those with dead branches (they like to strip back the bark and feast on grubs and bugs), but happily reports seeing five on the morning of 8 November.
The birds are prolific in bush around Matakana and Sandspit and in predator-free Tawharanui. Being large parrots they are easy to spot and their unmistakable squawking is easily heard.
MERRA's representative who manages the animal pest plan, Mark Croft, says seeing kaka in the area may well be another of nature's indications that the plan is having a positive impact on native bird-life.
If anyone else has noticed kaka in Scotts Landing, we'd be delighted to hear about it – please post your observations in the "post comment" area below.